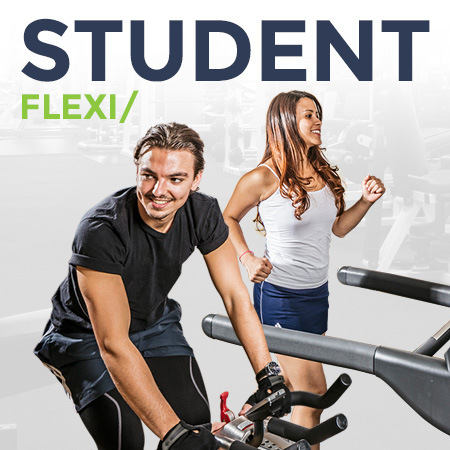 STUDENT FLEXI MEMBERSHIP ($16 a week) (NO-JOINING FEE)
$16.00
Join this month and pay no joining fee. All you pay is an upfront fee of $16. This covers your first week of access. Membership fees are paid via direct debit every Thursday. Direct debit payments start one week from joining.
Student and Senior flexi membership includes gym access and group exercise classes held in Studio One.
The Kick Starter lite program is available to student and senior members upon joining. Kick Starter includes an initial consultation with one of our trainers, where you will set your exercise goals.
Following your consultation, you are booked in for a second appointment where your trainer will walk through your personal exercise plan.
There is the option to place your membership on hold, members have free wifi access (a great way to stay connected on social media while you workout.)
Exclusive member shower and change room facilities available.
There is allocated parking for members if an event is taking place at The Trusts Arena, the car park sticker is for gym use only.
A valid New Zealand student I.D must be presented upon sign up, youth may join from 13 years of age.
Under 18 years of age will require parents written consent (co-signing of the membership forms).
Recommended classes for under 18-year-olds 100 classes, Combat Youth, Pilates and Yoga.
65 years + are also eligible for the student and senior membership. Arena Fitness & Boxing offer three weekly dedicated Vitalize group exercise classes for seniors.
Please refer to our class timetable for Vitalize class details. Seniors are welcome to participate within the Gold Club group, a medical certificate is required prior to exercise commencing.
6 and 12-month lump sum membership options are available if this is preferred. Please contact our sales manager for more information.
Email: Aysha.claudia@thetrustsarena.co.nz
DDi: 09 970 5202
Don't let procrastination stop you from transforming your life. Come and join the Arena Fitness family today.
Get started now, by clicking the "Add to Cart" move to the top right hand cart icon on the screen to process your membership details and payment.
On your first visit to Arena Fitness & Boxing you will meet with our Sales Manager to complete the flexi membership.