When life gives you Parkinson's… counterpunch!
Make friends, get fit and show Parkinson's who is boss. Open to people with Parkinson's of all fitness and mobility levels.
Discover the benefits of non contact boxing and supervised high-intensity exercise for people with Parkinson's, in a fun and supportive group, lead by a Parkinson's movement specialist.
Bookings are ESSENTIAL.
Lisa Gombinsky Roach is the Head Coach of Counterpunch Parkinson's. Lisa teamed up with New Zealand's own heavyweight boxing champion Shane Cameron to develop Counterpunch Parkinson's. She is a senior Conductive Educator and a rehabilitation specialised personal trainer.
She has been working to help people with Parkinson's and other neurological conditions move better and maintain independence for nearly 20 years. She has had the pleasure of working with people with Parkinson's here in New Zealand, Australia, Norway, Canada and in England.
Over the last few years Lisa has been closely following the work of an inspiring organization in America called "Rock Steady Boxing". Rock Steady put non-contact boxing based exercise programs for people with Parkinson's on the map in North America. People with Parkinson's, and people researching effective exercise for people with Parkinson's, are raving about the benefits of boxing based exercise.
She has also been following the changing literature on exercise guidelines for people with Parkinson's. We now know that for exercise to be effective in promoting neuro-protection and neuro-plasticity it must be challenging, engaging and fun, and have some high intensity components. Again – boxing based training fits the bill.
From Lisa's conductive education and exercise professional perspective, boxing based exercise programs make so much sense for people with Parkinson's. Boxing provides a fun way to work on balance, gait, size  & accuracy of movement, agility, coordination, strength, flexibility, speech and brain-body connection. Boxing naturally makes use of visual cues and rhythm both of which are really helpful for people with Parkinson's.
Insights
When: Wednesdays 10:00 – 11:00am (1 hour)
Casual and concession cards available for Counterpunch sessions

Location: Arena Fitness & Boxing, inside The Trusts Arena, Henderson.
How it all started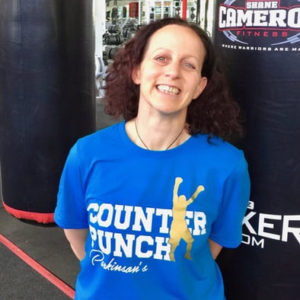 Lisa Gombinsky Roach built Counterpunch Parkinson's from inspiration and experience. Her excitement grew from reading more and more research which clearly shows the benefits of exercise for people with Parkinson's Disease; but failing to see anyone implementing this research in New Zealand, Lisa took it upon herself to put her years of experience working with people with neurological conditions to work.
Gathering a small group of keen participants to try out a Parkinson's specific boxing class in a little room at the local YMCA, New Zealand's first boxing-based Parkinson's exercise group was born. The participants immediately felt the benefits and they told their friends about it. Soon the group outgrew their little room and Lisa gave Shane Cameron a call.
Send us an email
If you have any questions or would like to know more about what Membership options best suits you, our Fitness Classes and GX Classes, Weightloss Programmes or simply want to know more about the facility, please call 09 970 5212 or fill in this form below and one of our team will get in touch.