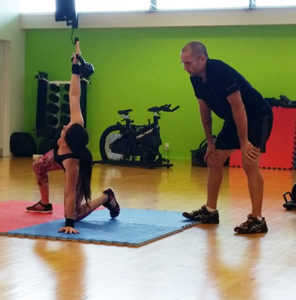 ---
Making positive changes in the lives of people in our West Auckland community is an important goal for the team at Arena Fitness.
We are dedicated, focused and very enthusiastic about the positive benefits to health, fitness and wellbeing our members achieve when regular exercise is combined with a healthy lifestyle.
If you are similarly passionate about spreading the message of the benefits of fitness and are hungry to develop and grow your skills in the health and fitness sector, Arena Fitness is for you!
---
We are currently seeking Awesome Personal Trainers.
Arena Fitness has a strong membership base, we offer very competitive PT rentals and the opportunity to train in two state of the art gyms located within The Trusts Arena. Facilities also include indoor and outdoor tracks, a large precinct area and loads of client parking is available. 'Life is Great' is our motto and we are serious about generating positive change for our members in a fun, friendly and welcoming environment.
Relevant qualifications are essential and experience is preferred, but not absolutely necessary for outstanding candidates. We offer training and development, regular reviews and assist in the marketing of your profile to generate prospective clients.
For more information please use the form below to submit your CV with a brief overview of your style and skills.
Our Operations Manager will reply to all enquiries promptly.